Check In -Procedures
& Check Out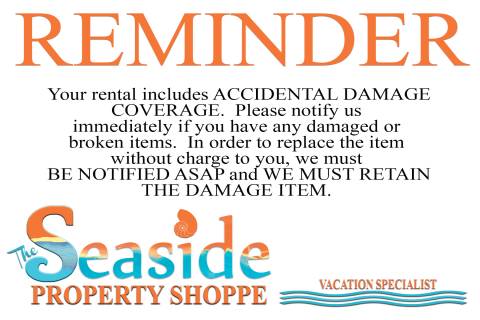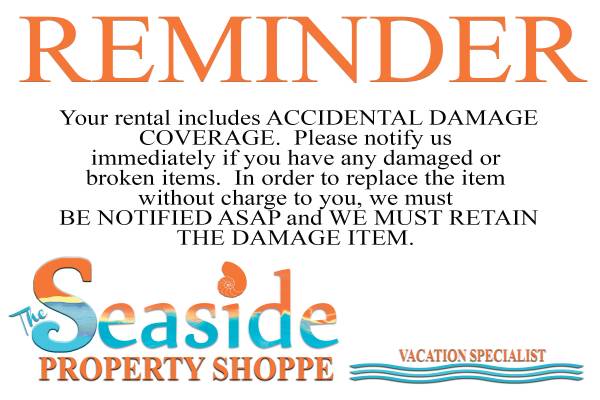 To Our Guests...Welcome
The Seaside Property Shoppe would like to welcome you to the Sunny Coast of Florida.  We hope your stay is enjoyable and that you have a great time!
Please treat this home with care as though it were your own.  Each property is individually owned and belongs to a family.  It is their "second home."
When first entering your unit, please take a minute to look things over.  If you have any questions or concerns about the unit, please call right away at 727.593.3008
We ask that you wash all sand off at the outside shower or faucet before entering.  Sand clogs up the drains easily.  Please do not sit on furniture with wet bathing suits or suntan oil.  After collecting shells, please rinse them off outside as the sand and tiny shells also clog drains and break garbage disposals.  Do not take bath towels to the pool or beach.  Missing towels will be billed at $15.00 each to your account.
Use only your assigned parking spaces.  Guest must use visitor parking when available.  If none is provided, they must park off the premises.
Parties are not allowed unless first approved by management.  Many condos have restrictions the number of "day guests" you may have.  The Seaside Real Estate Store has a limit as to the number of overnight guests so please check first to avoid extra billing.  Violation of condominium rules could result in your early departure with no refund.  Since this in not a hotel or motel...daily or weekly cleanings and linen changes are not provided.  Extra cleanings and linen changes can be arranged for an additional fee.
CHECK-OUT TIME IS 10:00 AM
WHEN CHECKING OUT:
Leave beds unmade
Put dirty towels in the tub / shower
Keys MUST be dropped off at Seaside upon departure
(lost keys will be charged $50.00 per set, $150.00 if Lobby/Common Area key)
Please do not leave a sink full of dirty dishes, put them in the dishwasher and start it on your way out.
Remove all trash to outside receptacles / trash chute
IF LEAVING BEFORE OUR OFFICE OPENS LEAVE KEYS IN THE WHITE MAILBOX OUTSIDE OUR OFFICE DOOR.
Remember, you may be charged for excessive cleaning.
If there is anything we can do to enhance your stay, please let us know.  If you have any suggestions, please leave a note on the back and drop off with your keys.
Sincerely,
The Seaside Property Shoppe